Why you need a business plan
I admit that Drew Pritchard is a bit of a god to me. So it's fairly obvious that I will ask the question, "what's he got that I don't have?" and, more realistically "how do I get to where he is?"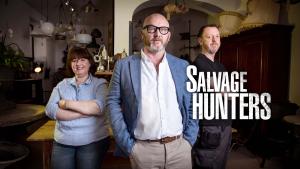 Yes, I watch his Salvage Hunters TV programmes open-mouthed in fascination – at night, I dream of having his life! Drew has a team of lovely business and restoration people around him, plenty of storage space, a dedicated photo and website person, a lovely space for setting up photos for the website, a huge client base, a driving license, did I say loads of storage space?, TV and media exposure, loads of contacts in the trade, stock turnover, money to invest in stock-hunting trips and stock, a clear segment of the market, an understanding of where the market is going (such as his recent move into country house antiques as well as industrial chic), and an enormous amount of knowledge. From the outside, he has it all.
Now I'm not a particularly envious person and I know he has worked hard in the industry from a young age and it's taken time to get where he is. There've been lucky breaks and hard times too. The constant pressure to find new stock to keep his employees employed can be stressful, and his fame must make it difficult to bargain – he even got his iconic hat nicked apparently! So right from the off I understand that it's not an easy path and I might not have the time on this earth to get to where he is today.
For me, this is a second career and I'm starting out at 50-something – let's just say I'm vintage in age, retro in look, but not an antique yet! But I do want to have a direction and a plan to keep me on the right path so that I can judge how well I'm doing. When times are hard, it's this kind of information that really helps you keep going.
Over the years, I've helped hundreds of organisations and people develop organisational, business or project plans. The process usually starts with developing a 'map' of where you are today and where you want to be in the future, with some landmarks you want to pass on the way there. I took a list of the things Drew Pritchard has and used that to define where I want to get to.
Now for the reality check – even with all the luck and investment in the world, can I get from here to there? I think the answer is probably no, because there isn't time to develop his years of experience, contacts and knowledge. This admission doesn't mean I should give up, but I should try to think of coping strategies and perhaps a slightly different target. I don't buy and sell what Drew does (I suspect he would hate my stuff), I live in Scotland and I can't drive, I want to develop the business so that hubby and I can go stock-hunting together, I lived in France for 12 years and worked on public health issues in Africa and Asia for 30 years. I have a different story.
Part of why I do what I'm doing is a passion for mid-century design but a big part is political – I want to reduce environmental impact. OK, so I'm not Drew and I can't match him, but I do have something and I can achieve some things. It's not so much 'back to the drawing board' as 'step one completed'. I know where I am and I'm beginning to get a realistic idea of where I want to be and CAN be.
"Blimey, Charlie", as Drew says, I feel good.